High repetition rate, high power femtosecond fiber laser
ALTAIR is a femtosecond, Quasi-Continuous Wave range of lasers emitting at around 1 micron (typically 1040 nm, but also at 1030 nm, 1050 nm and 1064 nm) which delivers world's class performance in a rugged, compact, air-cooled package. With repetition rates of either 40 or 80 MHz in a robust and extremely easy to install format, this laser is ideally suited for the most demanding biophotonics needs.
With average powers ranging from hundreds of mW to 5W, 10W or 20W, and ultra-short pulse widths down to < 100 fs (other fs pulse durations available) around 1030/1050 nm.
This state-of-the-art fiber laser technology provides an excellent beam quality and high resolution for any optimized life-science microscopy applications.
Technical Specifications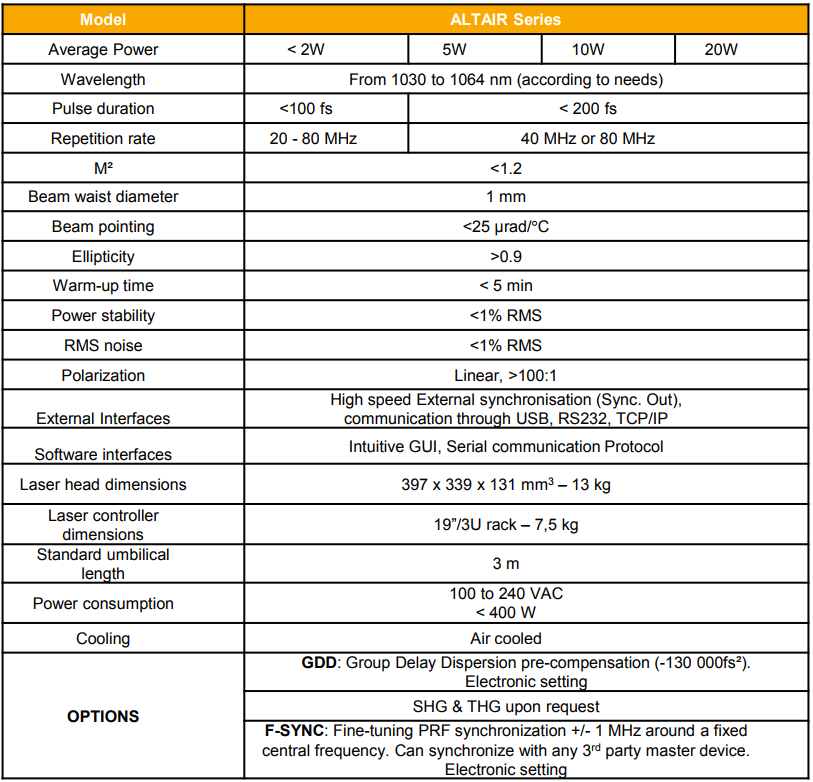 Applications
- Multiphoton Microscopy
- Two-photon microscopy
- Neuroscience
- Optogenetics
- OPO Pumping
- Non Linear Optics and spectroscopy
- Terahertz generation
Options avaiable :
- Group Delay Dispersion compensation.
- SHG and THG available on demand.