Collimator - Beam Shaper
Converting Gaussian to Flattop profile
Nd:YAG, Fiber and other near-IR lasers
Applications
- Welding
- Cladding
- Brazing
- Annealing
- Hardening
- Display Making Technologies
- Technologies where uniform intensity required
Technical Specification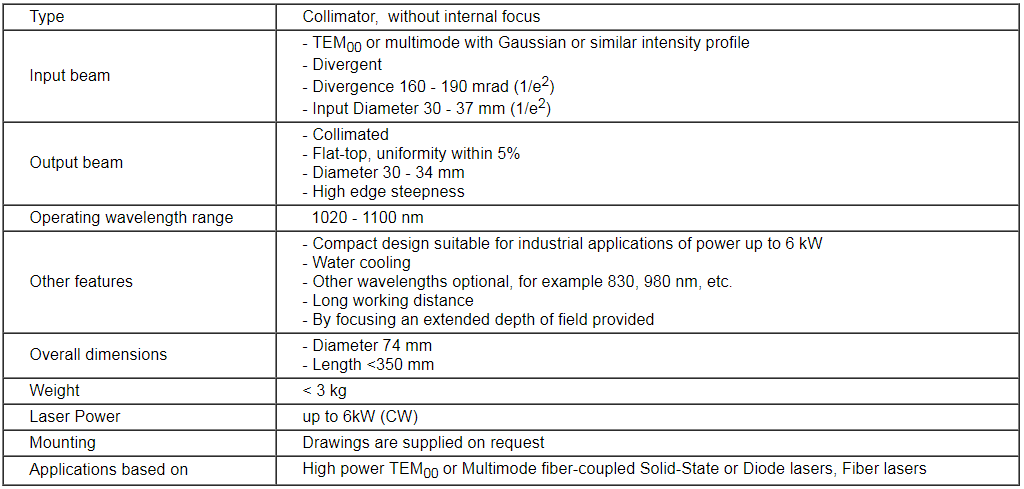 Basic principles of πShaper operation
- piShaper transforms Gaussian or similar intensity distribution of source laser beam to a flattop one.
- TEM00 or multimode input beams are accepted.
- Galilean design, thus there are no intermediate focusing of a beam
- Combining of 2 functions : Beam Shaping and Collimation of a divergent beam from a fiber.
- Changing the input divergence (or beam size) leads to chaning of the ouput beam profile;
- When changing the shape of input beam it is possible to adapt the piShaper to provide flattop output profile,
this adaptation is realized through changing the diameter of source beam;
- Bersions of the piShaper 37_34_1064 for other wavelengths are, also, available.